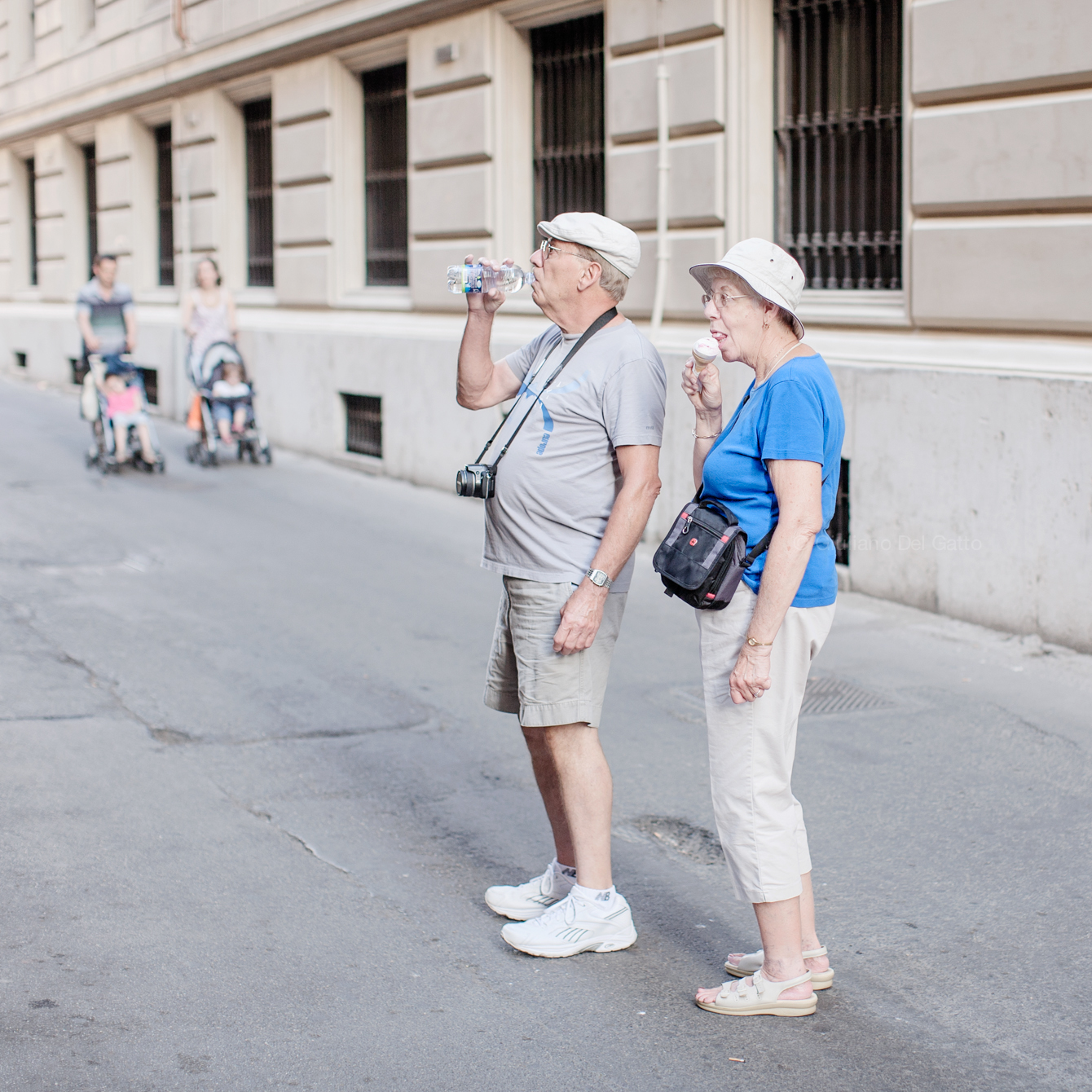 Tourists Lifestyle
Rome 2010 - 2012

"A tourist is someone who travels in countries other than the habitual residence and outside of their own everyday surroundings, for a period of at least one night but not more than one year and whose usual purpose is other than any remunerated activity of the country visited. This term includes those who travel for: leisure, rest and vacation, visiting friends and relatives, for business reasons and professional, for health reasons, religious / pilgrimage and more." (World Tourism Organization).
Rome, for its attractions every year is full of tourists from all over the world, each with their own customs and traditions, all gathered in one city. This meeting generates a number of situations and behaviors that are common among all travelers.
The first thought of a tourist is the documentation of his trip. The picture of themselves in front of the characteristic monument or local tourist attraction is the proof of having been there, something to show to friends and family, sometimes even more important than the simple act of looking.
The tour guides not to risk of losing someone offer a colorful way to be followed.
Beyond that, are endless the situations and possibilities that can be generated when so many, life experiences, habits and cultures coexist simultaneously in the same city for a short period of time.

Gold Of Cabras

Cabras (Oristano), Sardinia 2012

Bottarga is a food made from salted and dried mullet's eggs, processed with traditional methods.

After three years of inactivity in August 2012, starts again the mullet fishing for the Bottarga production in the Mar'e Pontis fishpond, located in the seawater pond of Cabras, in the north west of Sardinia, province of Oristano. Fishing has been interrupted for a long period, the irrigation canals clogged, the dirty waters and the lack of oxygen in the water damaged the lives of fish, bred and fed in a natural way using only the resources of the pond.

The peculiarity of the mullet fishing is that it is done directly with hands to avoid damage to other fish species. Some nets are only used to bring fish near to the edges of the fishpond, making easier the capture. The mullets living in the fishpond can weight more than 2kg.

A warehouse, few miles away from the fishpond manages and collects the freshly caught fish. In the warehouse, the mullets, before the working process, are immediately preserved in the blast chiller, with the belly facing upwards not to damage the eggs. The extracted eggs are then dried, salted and sold as bottarga. The rest of the mullet will be filleted, the meat dried and sold separately. Of this process 70% of the fish is waste.

The service has been made possible thanks to the kind collaboration with Nuovo Consorzio Cooperative Pontis (www.consorziopontis.net).
© 2019 Giuliano Del Gatto. All Rights Reserved